Dog Policies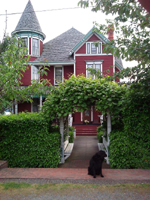 We would love to host your well-behaved, well-socialized dog. There will be a non-refundable pet fee of $25/night. Currently only the Parkside Room accommodates canine guests.
Access to the Inn:

Your dog must remain in your room or in your car. Interior public spaces are off limits except for passing through during which your dog must be leashed. You may not leave your pet in your room unattended unless s/he is crated, even for breakfast.
Pass through the public area quickly with your dog. Some of our guests do not like dogs. If they are interested, please stop to introduce your dog on the front veranda.
You are invited to relax on the lawn chairs or in the gazebo with your dog. Again, dogs must be leashed. Please clean paws before entering the inn.

Feeding: Restrict water and food bowls to the bathroom's linoleum floor.
Exercise and scooping:

You are welcome to walk your dog in our yard on a leash. Be aware that the streets are very busy. The park across the street is better for a romp.
Do not allow your dog to pee or poop on our lawn or in the garden. Just outside the front entrance gate is a gravel area that serves admirably and is easy to scoop.
Dispose of litter bags in the garbage cans beside the Inn's vehicles.
There is a garden hose by the inn's vehicles for your use. Please make sure it is turned off when done. If you need a dog towel, please ask.

Problems: If your pet is a nuisance or threatens our guests, you will be asked to leave. Also, this is Urse's home. She's usually curiously indifferent to other dogs, provided the dogs do not infringe on her personal space. Bouncy dogs startle her and she may insist that they calm down!
Supplies in your room: Can opener, 2 dishes, rubber dish mat, a few toys, list of off-leash areas. The supplies are in a hat box, just outside your room on top of the armoire.