About the Inn
Welcome to the Old Consulate Inn! Perched on the bluff above the historic seaport of Port Townsend, the Old Consulate Inn offers recreations aplenty while serving as a base for travels across the Olympic Peninsula and Puget Sound.
Through a vine-covered arbor and across the sweeping verandah, you enter the inn's foyer with its antique tiled fireplace and musical instruments. Step into the formal parlor with its windowed tower nook and round stained-glass window encircled with grape vines, a theme throughout the house. Enjoy playing the grand piano or the Celtic floor harp. You are cordially invited to bring your own acoustic instruments.
The dining room offers expansive views of Port Townsend Bay. In the library, cozy down in the comfort of overstuffed chairs with a volume of P. G. Wodehouse. Any time of the day,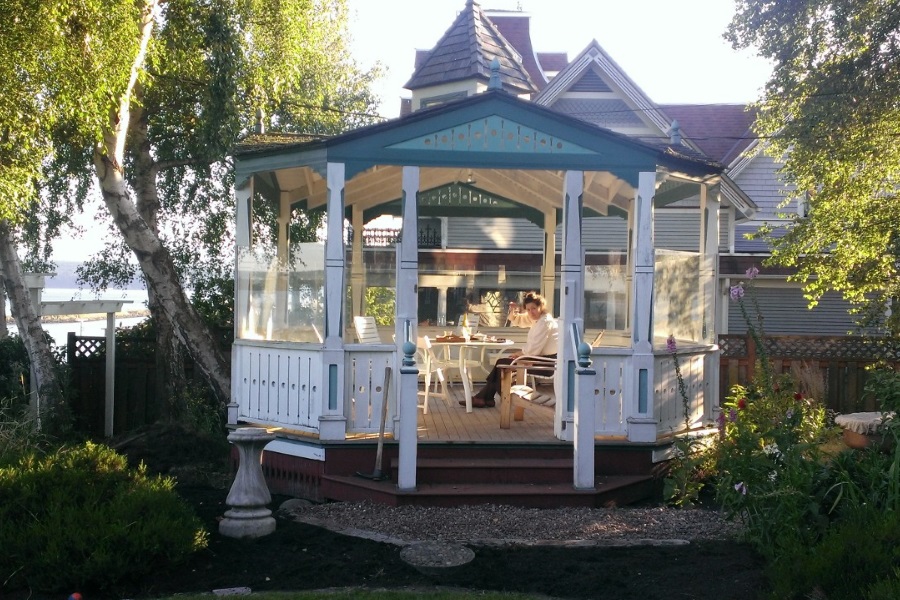 help yourself to a cookie, fruit, a fresh espresso from our self-service Italian espresso machine, or a cup of tea or hot chocolate.
Ascend the grand oak staircase and you will find eight private rooms resplendent with comfortable antique furnishings. Downstairs you will find a billiard table and another nest of couches and chairs, perfect for a quiet afternoon. Sit in the gazebo or set out for the mountains, woods, or waterways with a warm bed and delicious breakfast awaiting you on your return.
Best B&B in
Jefferson County
2013 & 2014